Last week, we rang in Eb's birthday.  See her showing off her new riches above?  Ebony lives by the rule, "a lady never tells her age."  So, we'll say it was her sixteenth…or a multiple of that..plus or minus four ;-).  To celebrate, we tried a restaurant we always pass but have never patronized, Seasons 52 in King of Prussia.  Perfect pick because their motto is, "A fresh dining experience that celebrates living well.".  All fresh everythang.
The birthday girl opted for her favorite, steak…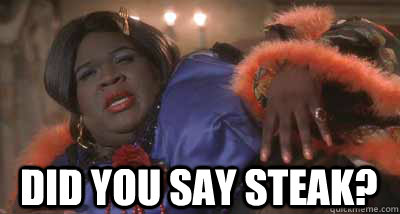 Yes, I did.   She's just like one of Deuce Bigalow's paramours.  Only prettier.  And she doesn't need a special phone for full-figured gals.  I digress.  We'll say she gave her Oak-Grilled Filet Mignon two thumbs up.  After cleaning her plate she said, "I fell in love."
Onyx ate a hearty plate of shrimp pasta.  Grilled Jumbo Shrimp Cavatappi Pasta to be exact.  That was her first encounter with cavatappi.  As she put it, "whatever it was, it was good…"
My choice was easy.  This wide veggie bounty.  I was satisfied.  Restaurants sometimes fall short with vegetarian options.  But their Winter Vegetarian  Tasting had a nice variety and was filling.  I felt a little duped because one item was listed as quinoa but it was fennel.  Both healthy but different textures.  I won't hold a grudge.
And the grand finale….
Our favorite part of any meal!  At Seasons their called Mini Indulgences.  How nice of them to make a whole tree of them!  Chocolate Peanut Butter Mousse.  Key Lime Pie.  Pecan Pie.  Mocha Macchiatto.  Raspberry Chocolate Chip Cannoli.  Check, check, check!  The idea is not to overindulge but really?  When you wave every flavor in our faces, do you expect us to try just one?  No regrets.
Ebony had one happy birthday.  The 'tinis played a small role…just a little bit!  She was all smiles and giggles.  By the end of dinner the ramblings were nonstop.  You can tell from my expression, I don't know what she's talking about!  I just smile and nod.  Happy birthday, sisterrrr!!!