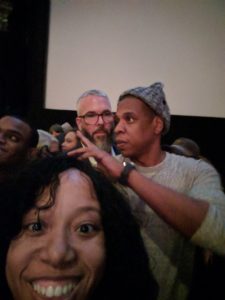 The fight to control our own narrative as people of color is ongoing. It's vital. That's why Solange gifted us with songs like 'F.U.B.U.' Our most recent dose of the struggle took place at the Sundance's 2017 Film Festival. This was our first year at the 'dance and we learned a helluva lot. Overall, our experience was phenomenal. But there was one occurrence that left us, well, underwhelmed. One that showed us we must fight harder so that our voices can penetrate deeper.
Imagine going to Sundance as a member of the press, most interested in covering 'Time: The Kalief Browder Story', a series coming this March executive produced by Jay Z. Before we jump into our recount, understand the context of 'Time'.  It's a compelling story about a 16 year-old Black boy that was falsely accused of stealing a backpack and was imprisoned in Rikers Island for three years.  His time in jail was traumatic and terrorizing.  His innocence was never recovered.  His psyche was never cleansed.  His time in jail drove him to commit suicide.  Race, money and class were the driving forces behind Kalief Browder, and thousands of others, being unjustly detained.
Race, money, class.
Back to our experience at the series' world premier. The "policy" to access pressrooms for credential-holders was first come, first served.  Arriving over two hours early for "Time", we were the first. The line quickly filled with press from MTV to local Utah print. Oddly enough, there was only one other Black press member out of approximately 25.  Again, this series is about a Black child unjustly detained in a system governed by white supremacy.  
Race, money, class.
Shortly before the pressroom opened, a Sundance coordinator by the name of Molly came to deliver a message, "Just to let you know, there were invitations sent to some press to RSVP to the film's publicist. They'll get access to the pressroom before you, but I'll fight for you since you arrived first."  By the time those with golden tickets were led into the pressroom, we were the only two left in line.  Global Lipstick (in partnership with Matador Network, which has over 1 million social media followers worldwide) was the only media outlet without an invitation from the series' publicist, according to Molly.  Moments later, Molly returned with more news. "This is the hardest part of my job. We're at full capacity. We can't let you guys in. I'm sorry." As quickly as we were rejected, a man from another news outlet arrived.  What was a matter of maximum capacity quickly became rolling admission for him, another group of four and one middle-aged woman; all white.  It became clear that our denied access had little to do with capacity of the pressroom.  The two Black women were denied for another reason…
Race, money, class.
Rejection is a part of the job, so this is no tantrum in response being told no.  This is a challenge to "the powers that be" to do the work.  All. The. Way.  Storytelling in Hollywood is twofold: the story itself and the marketing. Kudos to Sundance for screening the series. And kudos to Spike TV for adding one of our favorite Black males in entertainment to the production team.  But don't stop there.  How can you effectively talk race, a topic that so deeply affects our community, yet make a concerted effort to exclude us from its promotion?  The Kalief Browder Story is delicate and should not be pimped. Injustice in our community is so common that we've almost grown to accept it. Almost. When Kalief Browder was finally released from Rikers Island after three years, he said, 'I'm happy to be home but should I even be happy? I shouldn't have ever been there." Our definition of victory has been skewed. It's going to take some serious soul searching as a country for people of color to get out of the 'we have to work twice as hard to get half as much' mentality. Sundance Institute and Spike TV, we need all hands on deck.
Jenner Furst, the series director, explained that his goal in creating this series is to change the legislation of the justice system. He seemed heartfelt and the intent is beautiful. We recommend starting at home, though. Hire more producers of color to work on these projects. When you have a chance to incorporate Black press at a world premier of this nature, make sure they have a seat at the table. Anything less would be perpetuating the cycle of blaxploitation.
Nothing compares to authenticity.  We as people of color can tell our stories with understanding and empathy. Some of the press chose to ignore Kalief's story altogether and asked Jay Z questions about his feelings towards Donald Trump's presidency. They used their access as an opportunity to discuss what's trending, no matter how unrelated.  After the premier, we were a part of the most poignant Q&A of the entire festival. In an audience filled with people of color, everyone had questions that were closely related to the docu-series.  Many were areas we planned on covering if we had a seat at the pressroom's table. Ex: what's the action item to help prevent stories like his from repeating?  How can programs like COPS (that regularly reflect Black men in a negative light) air on the same network as a docu-series that was created to bring about race-related change?  Yuge difference. Yuge. 
The crux of Sundance is presenting heartfelt, nuanced perspectives.  Beautiful mission, right?  Let's work to ensure that the mission isn't abandoned…